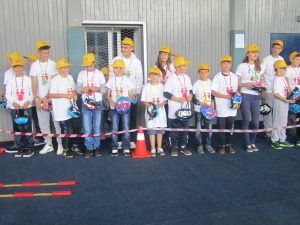 The cooperation between College Tempulli and MEST have provided support to continue this year the activities started in 2013 with students, as permanent ways of our activity with students, parents and teachers. These activities have already been scheduled in the regular calendar of MEST in terms of learning and extracurricular activities.
Testing of students country wide, regarding their skills of being familiar with traffic signs and regulations, is a result of success and encouraging outcomes marked last year regarding developing joint activities for road safety, which were  conceptualized by Kosovo Forum for Road Safety and implemented by MEST, College Tempulli and Kosovo Association of motorization-AMRKS.
Road safety activities at national level within the KFRS, have gathered all stakeholders who are in various ways involved and participate in the road. With the help of Kosovo Police, MEST as well as other government institutions, College Tempulli, MEST and AMRKS, last year managed to carry out a very specific study in 40 primary and lower secondary schools throughout the country. The research was aimed to assess the level of students' knowledge in schools in terms of being familiar with regulations and behaviour in road. The research results were published in the autumn of last year in the conference "Students and their safety on the road 'organized at this hall. In addition to this activity in schools, we have conducted over 40 television shows to date, in relation to road safety, several roundtables, in-house and regional debates, national and international conferences which had a common denominator the safe movement in the road.
This year our teams have not assessed students' knowledge and skills, where this assessment was entrusted to PLSS selected by MEST, where this year there are 33 of them country wide.
Theoretical testing was held on June 10th 2014, and practical testing on June 18th 2014 in Kosovo Academy for Public Safety.
In order to ensure smooth progress of activities, the students were divided into three groups, depending on the age of students:
Group one-grade 1 to 3
Group two- grade 4 to 6
Group three-grade 7 to 9.
Organizing activities within national project "Road safety" is greatly supplementing the many years gap in this area and is having an impact on students to have a safer movement in road on the way to school and back. Activities development and joint action plan in enhancing the road safety, are requirements of global plan for the decade of action 2011-2020 of United Nations. Considering that these activities are being organized for the second time in Kosova, we deem that we have jointly started to improve the safe movement in traffic.
Elements-exercises in driving bicycle.pdf
Parts of exercises in recognition of traffic signs.pdf
List of results from teorichal part.pdf